"Simple Solutions, Powerful Results"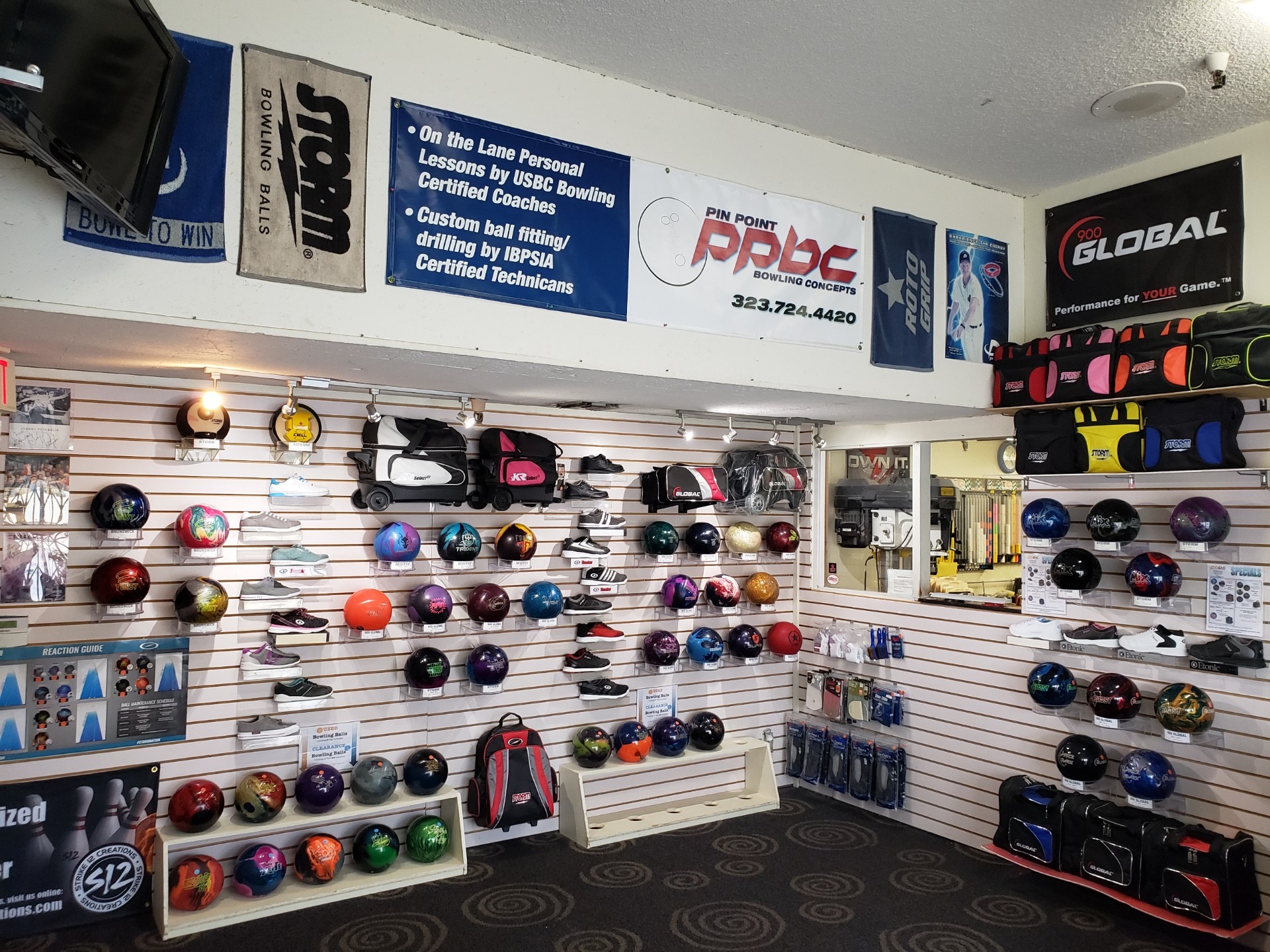 Welcome to Pin Point Bowling Concepts, your full-service bowler's shop located inside AMF Beverly Lanes, Montebello, CA.
ATTENTION CUSTOMERS:
WE ARE REOPENING ON TUESDAY APRIL 20,2021!!!



Until further notice, we are only allowing 3 customers in the pro shop at a time. Please practice safe social distancing. We'll keep you safe, so please keep us safe!
Masks/Face coverings must be worn at all times. 
We are staffed with 2 Certified IBSIA (International Bowling Pro Shop and Instructors Association) Technicians and USBC (United States Bowling Congress) coaches.

We opened our doors on March 5, 2005. Through excellent customer service, we will assist the customer in becoming the best possible bowler that they can be given their ability and dedication to the sport of bowling.
In October 2013 the pro shop I used to go to closed down. On recommendation from my former pro shop and other friends I decided to visit Pin Point Bowling Concepts. I was greeted by Roger and Jairo and they asked how they could help me out. I explained to them how I was never comfortable with my thumb and grip. Roger then took the time to watch me throw the ball. He gave me some tips that helped me and then we returned to the shop. He checked my pitches and recommended changes to them. He had a used ball on clearance I bought and we changed the pitches to the recommendations he made. For the first time in a long time I felt comfortable. We plugged the rest of my equipment and I returned a few days later.

Pin Point Bowling Concepts takes the time do everything right and will answer any questions you have. Roger and Jairo are passionate about their work and produce quality work. With great turnaround times and personal service PPBC has created unmatched customer service to add to their vast bowling knowledge. If you are in town or looking for a new pro shop to frequent please pay PPBC a visit. You will not be disappointed. Roger and Jairo treat every customer with the same attention to detail no matter what your skill level is or how much you are spending. Top notch professionals with the skills and dedication to continue being the best pro shop in Southern California.
First, id like to thank the people here for giving great price and honesty. I would highly recommend this pro shop for anyone looking into maintaining your equipment.
My ball was slightly burnt out from playing over 50 games, and i was considering resurfacing but Roger recommended me to play a little more and come back. Not only that, due to the new rules of having only two finger holes for two handed or palm grip bowlers. I thought i had to patch up my ball since im a two handed bowler. But roger told me i dont really have to do it because its next year (coming to effect) and the rules might change a little. So, i didnt have to waste unnecessary money. Im talking about this because another pro shop kept insisting on patching the ball everytime i went.
Hence, this is the most honest business and really good at what they do. My friend got his ball resurfaced and it was awesome!
You must check this place out!!
My hubby and I decided to join a league. We aren't the best bowlers in the world, and don't know all the lingo. We bought two undrilled balls online and took them into Pin Point Bowling to be drilled.  Roger and his staff were the kindest, most patient folks. They did custom measurements for our finger holes, and our balls look and feel great! They have 5 star customer service, and still had a smile even though we asked a ton of questions. They drilled while we waited too, which suprised me because I thought we'd have to drop them off and pick them up at a later date. They are amazing and we highly recommend them!
Great Service! Upon arrival I mentioned to Roger that I was a beginner and wanted a bowl ball that I could use for recreational use. What stood out, was the time that he took to take measurements, to understand what I was looking for. For pick up, he again took the time to make sure that the fit was good.  

Overall I am very pleased with my experience and would recommend Pin Point Bowling Concepts to anyone.
Jairo is very knowledgeable about bowling. I was having an issue with burn marks on my ball. At first I didn't know what they were. Jairo informed me of what it was and took the time to explain what causes this. He removed the marks and came up with a plan to keep the marks down to a minimum and wouldn't stop me from smashing them pins...He's a good dude!
Specials (Package Deals)
We have packages for all level of bowlers. Whether you are just starting out, or are in need of only a bowling ball and bag, we have it all!
Coaching and Instruction
Group clinics are held once a month at AMF Beverly Lanes. Learn more about the clinic.
Photos Collected thru the Years
PPBC Customers:
If you have photos you'd like to submit, please email them to us. Be sure to give us a description. It can be a photo of your high game, high series, etc..
Honor Scores & Personal Best High Games / Scores
If you're a customer of PPBC and your name is not listed, please send us an email and we'll have it added ASAP.
INTERIM HOURS

Sun: CLOSED
Mon: CLOSED
Tues: 4pm - 7pm
Wed: 4pm - 7pm
Thurs: 4pm - 7pm
Fri: 4pm - 7pm
Sat: 12pm - 5pm
Located inside:
Bowlero Montebello
1201 W. Beverly Blvd.
Montebello, CA 90640
Email: pinpointbowlingconcepts@yahoo.com